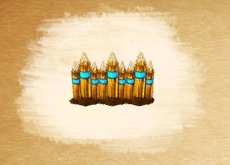 These essential barricades keep your warring neighbours from marching clean across your land. Wise wall placement is key for a defensive victory.
During battles, walls can be repaired by the snap vine trap and completely rebuild 3 times after they have been destroyed.
You can increase the maximum amount of walls by 20 by finding extra wall capacity in treasure chests.
Stats:
| | |
| --- | --- |
| Town Center level: | 2 |
| Damage type: | - |
| Targets: | - |
| Ammunition | - |
| Category: | Wall |
| Cost type: | Gold |
| Attack time: | - |
| Attack range: | - |
Upgrades:
(At some town hall levels there is no upgrade but there are 10 new walls to be built. This creates the strange stagger in the table below)
| Level | Hit points | Upgrade cost | Town centre level | Buildings available |
| --- | --- | --- | --- | --- |
| 1 | 300 | 200 | 2 | 25 |
| 2 | 500 | 1,000 | 2 | 25 |
| 3 | 700 | 5,000 | 3 | 50 |
| 4 | 900 | 10,000 | 4 | 75 |
| 5 | 1,400 | 30,000 | 5 | 100 |
| 6 | 2,000 | 75,000 | 6 | 125 |
| 7 | 2,500 | 200,000 | 7 | 150 |
| 8 | 3,000 | 400,000 | 8 | 160 |
| 9 | 4,000 | 800,000 | 9 | 170 |
| 10 | 5,000 | 1,500,000 | 10 | 180 |
| 11 | 6,000 | 2,000,000 | 11 | 190 |
| | - | - | 12 | 200 |
| | - | - | 13 | 210 |
| | - | - | 14 | 220 |
| | - | - | 15 | 230 |
| 12 | 7,000 | 3,000,000 | 16 | 240 |
| 13 | 8,000 | 5,000,000 | 17 | 250 |
| | - | - | 18 | 260 |
| 14 | 9,000 | 8,000,000 | 20 | 260 |
| | - | - | 21 | 270 |
| | - | - | 22 | 280 |
| 15 | 10,000 | 12,000,000 | 24 | 290 |
| | - | - | 26 | 300 |