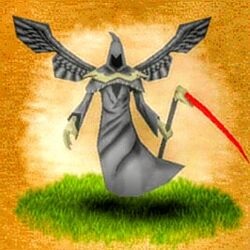 Fabled denizens of the dark, Reapers can twist death into raw power. Each unit that dies near a Reaper increases the Reaper's health, damage, and size.
Flying unit that fires a spinning blade from the tip of its scythe
As units die, it grows in size and power
Ability: Soul Collection

Each ally who dies within 12 tiles of reaper, adds souls to nearest Reaper. Reapers do not add souls to other Reapers upon death.
The amount of souls a unit drops is equal to its housing space
Each absorbed soul increases reaper size, damage, and healthy by a certain amount. (Prior to an update on October 13, 2014, this was 5%, but was increased in the update to an unknown amount).
Stats:
| | |
| --- | --- |
| Barracks level: | 19 |
| Favorite target: | Any |
| Damage type: | Ranged |
| Targets: | Air & Ground |
| Housing space: | 1 |
| Category: | Mage |
| Training time: | 15m |
| Movement speed: | 11.25 |
| Attack time: | 4.0s |
| Attack range: | 1.5 |
Upgrades:
| Level | Damage per second | Damage per attack | Hit points | Training cost | Upgrade cost | Upgrade time | Training grounds level |
| --- | --- | --- | --- | --- | --- | --- | --- |
| 1 | 100 | 150 | 1,400 | 10,000 | - | - | - |
| 2 | 133 | 200 | 2,100 | 12,500 | 6,500,000 | 4d | 15 |
| 3 | 167 | 250 | 2,800 | 15,000 | 9,000,000 | 5d | 15 |
| 4 | 200 | 300 | 3,500 | 17,500 | 13,000,000 | 6d | 16 |
| 5 | 233 | 350 | 4,200 | 20,000 | 15,000,000 | 7d | 18 |
| 6 | 257 | 386 | 4,631 | 22,500 | 17,000,000 | 8d | 20 |
| 7 | 284 | 426 | 5,106 | 25,000 | 20,000,000 | 9d | 22 |
| 8 | 313 | 470 | 5,629 | 27,500 | 23,000,000 | 10d | 24 |
| 9 | 345 | 518 | 6,206 | 30,000 | 26,000,000 | 10d | 26 |