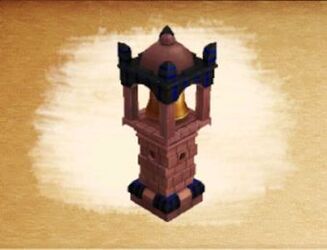 The bell in the gothic tower has a grim sound that stirs up a flock of bats when enemies near it.
The bats released are the same bats as those from the vampire.
The level of the tower bats depends on the level of the tower.
Unlike the skeleton tower, this tower is not immune to militia attacks.
Stats:
Bat tower
Town Center level:
28
Damage type:
-
Targets:
Ground
Ammunition
Infinite
Category:
Defences
Cost type:
Gold
Attack time:
8.0s
Attack range:
13.0
Bat
Barracks level:
-
Favorite target:
Any
Damage type:
Ranged
Targets:
Ground
Housing space:
-
Category:
Villager
Training time:
-
Movement speed:
17.5
Attack time:
1.5s
Attack range:
2.0
Upgrades:
Bat tower
Level
Bats released
Bat level
Hit points
Upgrade cost
Upgrade time
Town centre level
Buildings available
3
3
8
2,400
-
-
28
2
4
4
8
2,600
22,000,000
10d
29
2
Bat
Level
Damage per second
Damage per attack
Hit points
1
23
35
120
2
33
50
160
3
43
65
200
4
53
80
240
5
67
100
300
6
80
120
360
7
93
140
420
8
107
160
480
9
120
180
529
10
133
200
583
11
147
220
643
12
160
240
709